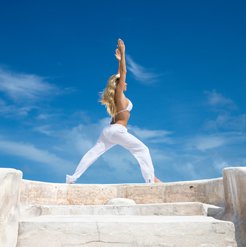 Balance exercises is a set of exercises using a variety of unstable body positions to eliminate or mitigate problems such as rhachialgia and joint pain, poor posture, overweight or poorly formed parts. It helps to shape the body and positively affects its overall appearance, relieves tension and supports the overall regeneration
The aim of balance exercises is to engage and strengthen the deep muscle structures, which are much less enforced in the normal movement. Moreover, it also teaches us to focus on specific movements, develops the balance and helps to reach a proper body posture. For this reason, it is used not only to solve the negative effects of lifestyle factors, such as lack of exercise, one-sided burden on the body, excessive stress and imbalanced diet, as well as a support training for other sports such as skiing or basketball.
What problems do balance exercises solve?
alleviate rhachialgia, pain in muscles and joints
corrects faulty posture
helps to solve the problem of overweight or obesity
forms the problematic body parts
improves motor coordination, develops balance
releases tension and stress caused by excessive body burden
How do balance exercises proceed?
Balance exercises take use of deliberately induced unstable positions, which lead to activation of a specific muscle structure. The first prerequisite for the effective exercise is the encompassment of the correct posture. Only after mastering the sitting position, you can proceed to the first exercises. You usually begin with the balance exercises on the mat, without aids. Later, a variety of equipment is used such as balls, balance turntables, dynamic air pads, rocking plate, and more. At the same time, the intensity of the exercises increases and, advanced gymnasts can already exercise with a more difficult combination of tools. A big advantage of balance exercises is in unpretentiousness on space and reasonable prices of the exercise equipment. Thus you can successfully practise at home.
Who can practise balance exercises?
Balance exercises can be practised virtually by everyone as they are suitable for both children and adults. You can choose either mild forms focused on stretching of painful parts, strengthening and encouragement of the bloodstream or demanding coordination exercises for athletes. If you're starting with balance exercises, it is particularly important to use a safe equipment and precisely follow procedures which we will introduce to you. Exercise frequency, its intensity and the most suitable type of equipment should always be determined on the basis of consultation and your specific needs or problems.